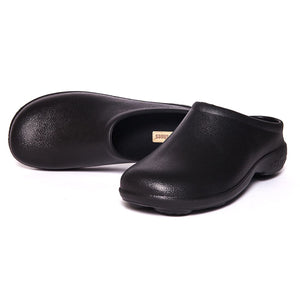 IMPORTANT SIZING INFORMATION
CHUNKY TREADS ARE DESIGNED WITH A SLIGHTLY HIGHER BACK FOR MORE SECURITY.
FOR CHUNKY TREAD MENS SHOES WE ADVISE THAT YOU GO UP A SIZE FROM YOUR USUAL SHOE SIZE FOR AN EASIER SLIP ON/OFF EXPERIENCE, ESPECIALLY IF YOUR FOOT IS A WIDER FITTING OR HAS AN HIGH ARCH.
YOU CAN TRY WEARING WITH OR WITHOUT THE INSOLE - THEY ARE JUST AS COMFORTABLE!
 
With a stylish orthotic shape to the sole, these plain black clogs are ideal for wearing all day. Popular in workplaces where clean and hygenic shoes are required, these clogs are the perfect footwear for dentists, vets, nurses, care industry workers and more. They're also great if you want simply want some plain Backdoorshoes!
*Custom designed chunky tread
*Extra sole thickness for even more comfort
*Orthotic footbed
*Removeable, washable insoles
*Whole clog is waterproof and washable 
*Easy on and easy off hands free footwear
*Can accommodate custom orthotics for those who wear them
Ideal for work - you can sneak these on in the office and nobody will notice: we promise you won't be arrested!
Easy to put on and take off, these waterproof gardening clogs are designed to keep your feet dry whilst removing the hassle of repeatedly tying and untying laces. Not only will these shoes stop your socks from getting soggy, their unique foam construction makes them washable and reusable for years at a time.