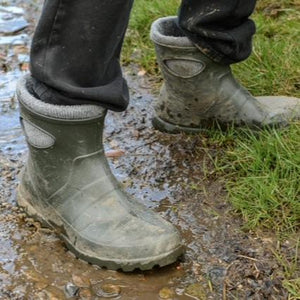 Leon Explorer Ultra Light Ankle Boots Men's
These boots are the most comfortable light-weight wellies on the market!
Every pair comes with a set of custom-made, warm removable liners made of antibacterial felt which is machine-washable. We recommend selecting your actual size in Men's boots.
The boots are made of EVA polymer, with a technique called direct injection moulding technology, making these unique boots one of the most durable (resistant to splitting and cracking) and, perfect for the garden/dog walks/ attending the horses at the stables or even the local pub! 
Each boot weighs only just 219g.
We have a great range of colours to choose from!